Philip Payson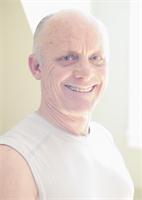 Phil credits yoga with saving his life. He no longer is laid up for days and weeks at a time with back problems, and as a cancer survivor, he is now disease free and enjoying the fruits of a regular practice. Phil has completed the Baptiste Level One and Level Two teacher training and the Assistants Training Program. Phil is also trained in Integrated Breathwork and Therapeutic Breathwork, and includes vision fasts, time in nature, regular meditation, and silent meditation retreats in his spiritual practices. Phil's teaching focuses on one's own direct felt experience, noting that radical acceptance of what is true in this moment leads to limitless gratitude.
Philip Payson instructs the following:
All Hot Power Yoga classes are ALL LEVELS and accessible to everyone. You will leave feeling rinsed and renewed with a new sense of clarity and purpose.