Emily Wallace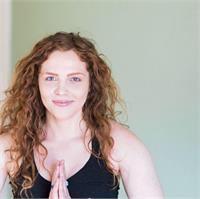 "Emily stumbled upon yoga in the chaotic transition from adolescence to adulthood.
Riddled with anxiety, self doubt, the tides of depression and the general demands of every day life, Emily found Yoga enabled her to peel away layers of the proverbial onion, drop the mask of illusion & step into trust, compassion, patience and joy.
For Emily Yoga came to be a sort of universal language in which she could communicate deeply with her self & others. Both on and off the mat. Moving away from a state of survival into a state of actively engaged living.
Emily teaches to come as you are, to be open to your own capacity to heal, awaken & enliven your true power. "
Emily Wallace instructs the following:
This class includes Yoga Tune Up myofascial release and sequences designed to awaken and bring awareness to body blind spots, building strength and flexibility in preparation for vinyasa, followed by a rigorous morning Baptiste hot power vinyasa practice. You will leave feeling invigorated and renewed, inspired and ready for your day.




Begin the day with this awakening class beginning with self myofascial release using soft balls and inflatable balls to release soft tissue tension and tightness, and then move onto a heated morning vinyasa flow designed to rinse out and revitalize your body from your feet to your fingertips.




Baptiste inspired Power Vinyasa Yoga Class ideal for beginners and/or advanced students. Vigorous heart pumping vinyasa flow moving on breath from one pose to the other. Please hydrate before and after class. Class is in a room heated to 90' with 60' humidity, with a bamboo wood floor.